A Killer's Confession Second Record "The Indifference of Good Men" to be Released Soon!
A Killer's Confession reviewed by The Pitmaster
It has been just a shade over 18 months since A Killer's Confession released their debut record "Unbroken" that was released by EMP Group founded by Dave Ellifson of Megadeth and featured David "Head" Welch of Korn on the track "A Killer's Confession."
After the band's contract with EMP had expired, A Killer's Confession released three songs on their own which gained critical and commercial acclaim and garnered over two million streams on Spotify. You can listen to "Angel On The Outside" on The Pit Playlist of Awesomeness HERE!
Now, it is finally it is finally here!
The second full-length record by A Killer's Confession, "The Indifference of Good Men" on the Wake Up! Music label, founded by MyMy Lady G, aka Pepper Gomez.
The Indifference of Good Men is 12 songs that is rounded off with a bonus track, a raw demo version of the second track Numb. The vocals are big and melodic with multi-metal subgenres heard throughout. There are a lot of solid guitar riffs and a rhythm that really drives every song home. The production is good and the sound is powerful which invokes energy and emotions to each song. This record will maintain your attention.
"To me, the "Numb" video represents true loss" states frontman Waylon Reavis. "In this video, it presents a family falling apart because of the death of a child and how that loss slowly destroys everything around the marriage. It stands as a warning that actions can have severe consequences on loved ones that are left behind. It's also a testament of if you need help, seek it out so this scenario may never happen to you. There's always someone out there with open ears that will listen. We are never alone as long as we don't choose to be."
Out of Cleveland, Ohio, A Killer's Confession formed in 2016, is Waylon Reavis (vocals), Mark Alexander (guitar), Morgan Bauer (drums), and JP Cross (bass).
The Indifference of Good Men track listing:
It's Not Too Late
Numb
Trust Me
Angel On The Outside
Cocaine
The Shore
One Step
Satisfied
I Wish
Reanimated
H.C. Tits
Render
Bonus Track
Numb Raw Demo
You can find A Killer's Confession on Facebook, Instagram, Twitter, and The Interweb.
The Indifference of Good Men can be purchased HERE!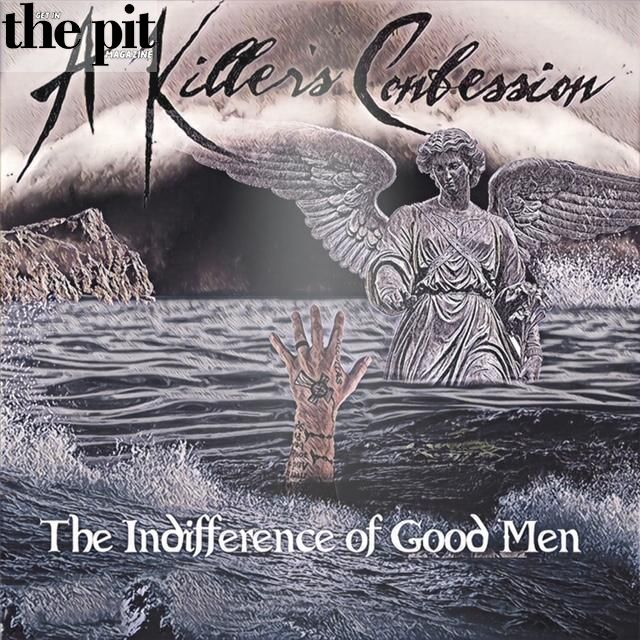 Follow The Pit on Facebook, Twitter & Instagram!
Subscribe to The Pit Newsletter today!
Follow The Pit's Playlist of Awesomeness on Spotify!
Support this and other fine local & touring artists, dig and buy their music, and get some merch!