GHOST "PREQUELLE EXALTED" COLLECTOR'S EDITION ARRIVES IN STORES!
Ghost "Seven Inches of Satanic Panic" 7-Inch Also Available Now!
Grammy-winning artist GHOST will see its hefty
Prequel Exalted
Deluxe Collector's Limited Edition available today at independent record stores in the U.S., Canada, and across Europe. Only 5000 numbered editions have been produced and once they're gone, they're gone. Unveiled by Sister Imperator in
this unboxing video
,
Prequelle Exhalted
includes a variety of exclusive items tied to the
Prequelle
album: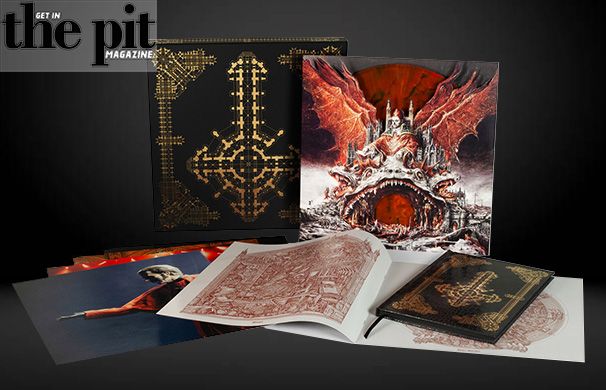 * Prequelle Limited Edition – 5000 numbered copies worldwide
* 60-page arena tour photo book, hardbound and wrapped in black gator skin
* Four 12″ X 12″ live photo prints
* Exclusive die-cut Prequelle artwork with a 12-page booklet featuring brand-new,
mind-blowing illustrations
* Prequelle Limited Edition Transparent Orange with Black Smoke Colored Vinyl
* Bonus 7″ ("Seven Inches of Satanic Panic") with two previously unreleased songs:
"Mary On A Cross," and "Kiss the Go-Goat" and alternative cover
Sister Imperator "Unboxes" the Collector's Edition:
In addition, the stand-alone "Seven Inches of Satanic Panic" double A-side 7-inch, featuring "Mary On A Cross" and "Kiss The Go-Goat," is also available today. These two songs were originally recorded and released back in 1969 by the Papa Nihil-led Ghost line-up and performed only once at The Whiskey A Go-Go. After that line-up disbanded, the original audio tapes and Super 8 footage were lost, but recently rediscovered by Papa Nihil. Ghost's current label, Loma Vista Recordings, is re-releasing the 7-inch on vinyl today.
Prequelle was produced by Tom Dalgety and originally released in on June 1, 2018. The album received a GRAMMY nomination for Best Rock Album, and a nomination for Sweden's Grammis Award as Best Rock/Metal Record of the Year, and Dalgety received a GRAMMY nomination as Producer of the Year. Both
Revolver and Kerrang! magazines named Prequelle the Best Album of 2018, and the album produced three Top 10 singles – "Rats," "Dance Macabre" (both of which went to #1 at Rock Radio), and the band's current track, "Faith." To date, Prequelle has accumulated some 250-million streams globally.
Subscribe to The Pit Newsletter today!
Follow The Pit's Playlist of Awesomeness on Spotify!
Support this and other fine local & touring artists, dig and buy their music, and get some merch!