Wednesday 13 at The Bourbon Theatre in Lincoln, Nebraska on December 12th, 2019.
Wednesday 13 photos by The Pit Magazine photographer, Winsel Photography in Omaha, Nebraska. ©2019.
What in the hell did I just witness? Disturbing? Bizarre? Don't care. I had no expectations going into to see Wednesday 13 for my very first time. My only impression was photos that had been previously submitted to The Pit Magazine a few years ago.
They had never come close enough for me to go see them. On December 7th, I got so close I could hear Wednesday breath.  This set started and end strong, and just as disturbing and bizarre. Not being familiar with this band or their music I was drawn in. I couldn't stop watching them. Five songs later, I knew that I could never unsee this band.
The seven song set, for the sake of all of their fans, included Necrophaze, Zodiac, Serpent Society, Prey for Me, Decompose, What the Night Brings, and Keep Watching the Skies.
Wednesday 13 went through a number of costume changes which were pretty cool and the most horrific and awesome was during the last song I covered, Decopose. Wednesday was wearing a mask on the back of his head and  was singing with his back to the audience with the mask facing the audience. I wasn't getting it, but I wasn't questioning it either. Then he turned around to show his decomposing face. Straight out of a horror movie.
As a lover of all things horror related, this is how the band caught me. I couldn't stop watching and at the end of their set all I wanted was more. I will say again, I went in with no expectations. By the end of  the Wednesday 13 set I knew I had to see and photograph them again. And as my luck will have, they will be back in Lincoln at the end of January 2020. I can't say I am not pretty stoked about their return.
More photos will be coming from that show…I promise that.
Wednesday 13 is:
Wednesday 13 – vocals
Roman Surman – guitar
Jack Tankersley – guitar
Troy Doebbler – bass
Kyle Castronovo – drums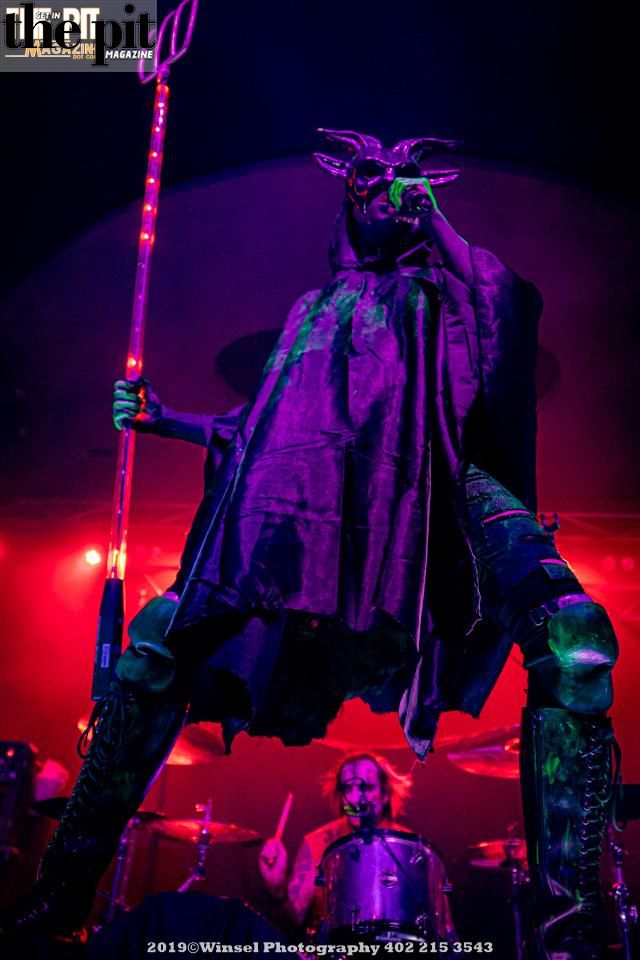 Follow The Pit on Facebook, Twitter & Instagram!
Subscribe to The Pit Newsletter today!            
Follow The Pit's Playlist of Awesomeness on Spotify!
Support this and other fine local & touring artists, dig and buy their music, and get some merch!