Dope at The Bourbon Theatre in Lincoln, Nebraska on December 7, 2019.
Dope photos by The Pit Magazine photographer, Winsel Photography in Omaha, Nebraska. ©2019.
It has been a hot minute since the last time I have seen Dope. Let's just say I was considerably younger. I am a fan, so this made it easy for me to cover them.
Dope is a New York City-based band, from Chicago, that draws from both heavy metal and industrial music whose music  harkens to Ministry, Skinny Puppy, and White Zombie. At this time, the band is touring in support of Static-X.
What can I say, Dope is hard a hell, industrial, and heavy. They came out with swinging with Blood Money  which was recognizable to most of the crowd. However, when they started to play Die Motherfucker Die the house lit up!! They rounded off the set with Dead or Alive cover You Spin Me Round (Like a Record). The set was a good mix of old and new records from the debut of Felons and Revolutionaries  to their most recent release, Blood Money Part 1. There is some anticipation that Blood Money Part 2 will be released sometime in 2020.
Midway through their set, Edsel took a moment to memorialize Wayne Static, as well as talk about touring and living with of Static X, whose living members were playing that night.
Overall, what a great set. Just strong as the day they released their first record. It was also awesome to see most of the original Dope lineup playing. I am not a superfan, but it was difficult to take photos to the songs I regonized when I was moshing in The Pit!
Dope are:
Edsel Dope (Lead Vocals,Rhythm Guitar)
Virus (Lead Guitar)
Acey Slade (Bass Guitar)
Daniel Fox  (Drums)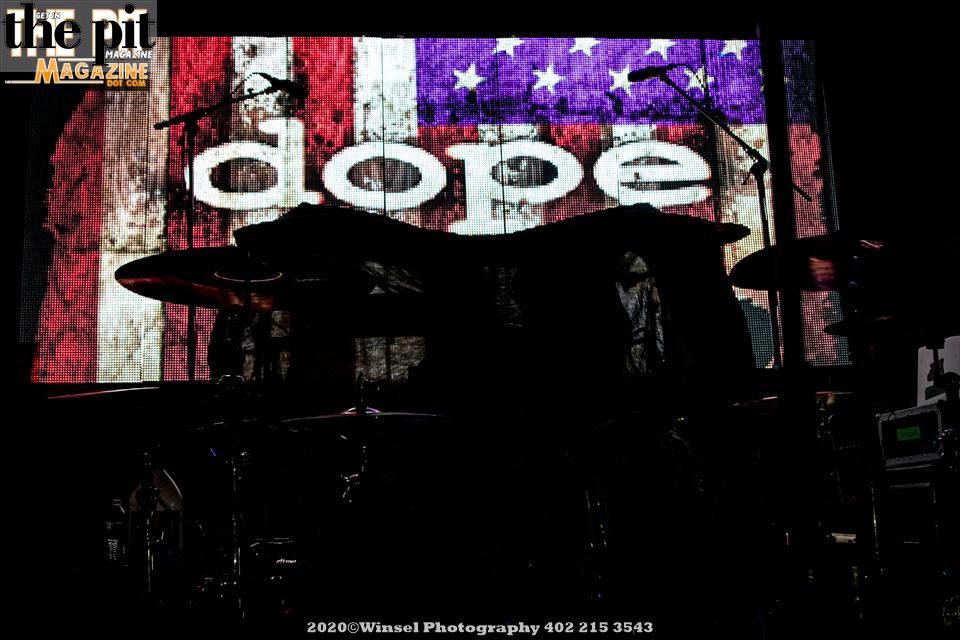 Follow The Pit on Facebook, Twitter & Instagram!
Subscribe to The Pit Newsletter today!            
Follow The Pit's Playlist of Awesomeness on Spotify!
Support this and other fine local & touring artists, dig and buy their music, and get some merch!
Follow Winsel Photography on Facebook, Twitter, and Instagram!
Review by The Pit Master