Static-X at The Bourbon Theatre in Lincoln, Nebraska on December 7th, 2019.
Statix-X photos by The Pit Magazine photographer, Winsel Photography in Omaha, Nebraska. ©2020.
Review by The Pitmaster.
The last show of 2019…and what a way to go out! This show already kicked ass with Wednesday 13 and Dope opening, but the reason I made the trip to Lincoln was to see Static-X. Yea, yea, yea. I know it isn't Static-X without Wayne Static. Well, I call bullshit. Whoever put on the mask to commemorate Wayne did a damn good job.
Minus Wayne, this was the original lineup of Static-X with bassist Tony Campos, guitarist Koichi Fukuda and drummer Ken Jay. The person in Wayne's place? Nobody except the band and close family and friends definitely know who it is. I have my speculations of who it could possibly be…but my first guess (Dez Fafara) had to leave the tour to be with family. If I were to put it out there, my best possible, off the cuff, gun to my head, reasonable feeling would maybe be Edsel of Dope.
Back to the show. This crowd was already in a lather from the two openers and with a long break between Dope and Static-X they just kept getting crazier. I have to say, I was struggling to maintain some level of sanity as this was the closest I will have ever gotten to see Static-X.
Not a disappointment either. They just came out and hammer down, drove nearly two hours of Static-X music. It was awesome to see, feel and hear this band do their thing in front of a packed house. Have never seen them with Wayne, but having great familiarity with the music, the guy under the mask,who they call Xer0, sounded spot on Wayne Static.
I think this iteration of Static-X may be around for a while. Do yourself a favor, go see them. I am glad I got to roll out of 2019 this way.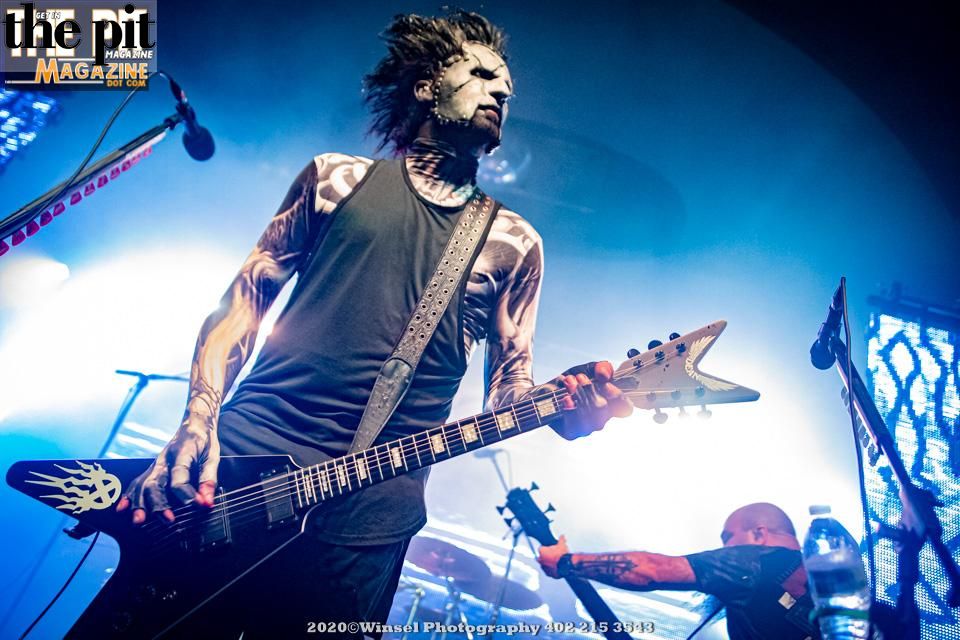 Follow The Pit on Facebook, Twitter & Instagram!
Subscribe to The Pit Newsletter today!            
Follow The Pit's Playlist of Awesomeness on Spotify!
Support this and other fine local & touring artists, dig and buy their music, and get some merch!