Slayer at CHI Health Center in Omaha, Nebraska on November 18th, 2019.
Slayer photos by The Pit Magazine photographer, Winsel Photography in Omaha, Nebraska. ©2019.
Hearing about the Slayer "Final Tour" was almost heartbreaking. But, it also brought me a little joy knowing that part of this tour would stop in Omaha. I waited a long time for it to happen and the night finally came. Supporting this tour were Phil Anselmo and The Illegals, Ministry, and Primus, but more on them in the days to come.
This was it. The last time I will get to see Slayer in concert. I had only seen them one time before during Mayhem 2015 in Council Bluffs, Iowa. But, it felt different than this show in Omaha. This time the even was hosted by CHI Health Center and I appreciate the ration of bullshit that Kristyna took from me wanting to be on the floor during the show. But, I stayed good to my word and stood up in front of my assigned seat. But, man! It was totally worth it.
Obviously the best part of the show for me was getting up close for the first three and I was hoping that one of my favorite, recently released songs would be in the batch. It was. Two huge curtains stood between me and what I felt would be one of the best freaking shows ever this year. The curtains drop and they roared right into Repentless (one of the first three I had hoped they would play), Mandatory Suicide, and World Painted Blood. I was pretty happy about these choices.
The crowd was crazy! Mosh pits and crowd surfing throughout the set. Slayer seemed like they were having a great time performing in front of this audience. They blazed through a blistering two hour set of screaming, heavy, thrash metal. Wrapping up the night with Slayer standards like South of Heaven, Raining Blood, Dead Skin Mask, and Angel of Death was brutality at its best.
This show is exactly how I thought a Slayer show would have been in the 80s and 90s. A complete and unrelenting run through the best they could give us. At the end of it all, it was exhilarating and sad at the same time. Sad because this may very well be the last time I get to see Slayer and exhilarated because I got to see one of the best concerts I have seen in my lifetime.
I am glad I got to see it. And I got to share this experience with a lot of friends in Omaha's music scene. Well, the Slayer legacy is still intact, but hanging up their instruments is sure going to suck sand. I am happy that I got to spend many Seasons in the Abyss with Slayer.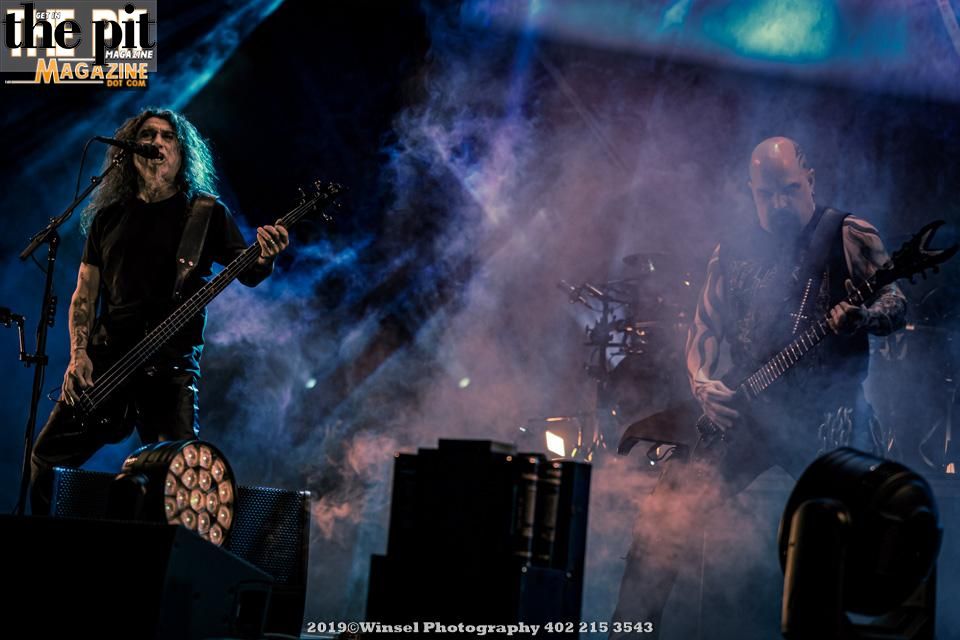 Follow The Pit on Facebook, Twitter & Instagram!
Subscribe to The Pit Newsletter today!            
Follow The Pit's Playlist of Awesomeness on Spotify!
Support this and other fine local & touring artists, dig and buy their music, and get some merch!