Sabaton at Stage AE in Pittsburgh, Pennsylvania on October 17th, 2022.
Photos and Show Review by The Pit Magazine Contributor David Desin Photography
On the 17th day of the 10th month in the year Two Thousand Twenty Two. The group of five men from the country of Sweden called themselves heavy metal band named Sabaton. Sabaton came to invade the city of Pittsburgh in the state of Pennsylvania at a venue called Stage AE. That, they did by educating the people of a far about historical moments in war and battles.
As I show up to the the venue , the people are lined up around the block. To the packed house, Sabaton attracts a crowd of all ages. I think almost every single person was wearing a Sabaton t-shirt or was dressed in military gear. The fans were amazing and believed real big in this band and what they represented. They were so involved in the band which created one of the coolest atmospheres at a concert that I have attended this year. This was definitely an awesome concert to attend and be able to photograph it.
It's hard to actually explain how great this band really is and the stories in their music, so all I can recommend is to check out their music videos and vlogs on their youtube channel. Trust me…. You will get drawn into the videos and end watching them all.
The band formed in 1999 by Joakim Broden (vocals) and Par Sundstrom (bass). Besides the two founding members, the rest of the band consists of Chris Rorland (guitar), Hannes Van Dahl (drums) and Tommy Johanssen (guitar). Check out Sabaton's new cd " The War To End All Wars " released in March of 2022 and also catch them on their North American tour now " The Tour To End All Tours ".
But Wait! There's More!!
Sabaton – The War to End All Wars – Record Review by The Pit Master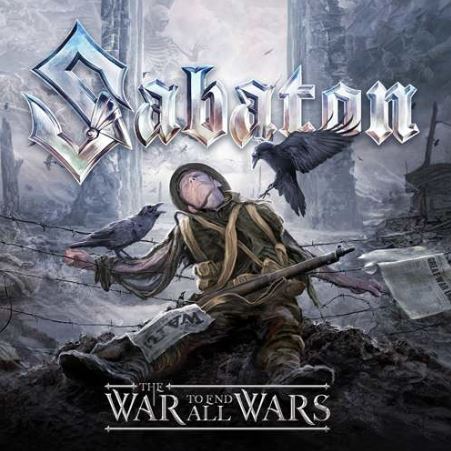 I like Sweden's Sabaton. My neighbor, Ivanna Pfisterbuht, likes Sabaton as well. So, we had a little Sabaton listening party of their new record, "The War to End All Wars" in its entirety. Man! What a journey it was!! Sabaton tells great historical stories written by vocalist/keyboardist Joakim Broden, with guitar solos by Chris Rorland and Tommy Johansson that set the tempo and mood for each piece of the events.
Sabaton gives us a war battle cry with each song and really had me and Ivanna wanting to go out and kick some Nazi butt. I especially like the second track, Stormtroopers, about a smaller, well-trained and equipped soldiers that take on and succeed against a bigger force. Surprise dudes! This little unit is "fast as lightning" and leaves "no time to mourn".
Ivanna and I listened to Sabaton for hours, each time finding out more about the history through their great anthemic, history-based metal. After Ivanna left the office, I listened to it several more times. Each song was a saga and I heard something new in each story throughout The War to End All Wars.
This is a great record to listen to and I can't recommend it enough. Get off your ass and go buy this new Sabaton record!!
Sabaton are:
Joakim Broden – Vocals/Keyboards
Par Sundstron – Bass
Chris Rorland – Guitar
Tommy Johansson – Guitar
Hannes van Dahl – Drums
Photos by The Pit Magazine photographer David Desin Photography, in Eerie, Pennsylvania. ©2022.
Follow The Pit Magazine on Facebook, Twitter, Instagram and Spotify!
Subscribe to The Pit Newsletter today!
Support this and other fine local & touring artists, dig and buy their music, and get some merch!