Skillet at The Agora Theatre in Cleveland, Ohio on March 3rd, 2023.
Photos and Review by The Pit Magazine Contributor David Desin Photography
A Skillet concert is one that you go to if you want to be wowed the whole time. You got John Cooper on lead vocals/bass and man does he have a way of sending the message of the songs out to the crowd. He gets so involved with the crowd. John goes into the crowd and sings and then holds the mic for people to sing the song back. Now in my opinion, that is so freakin awesome. Those people are going to remember that forever. 
Now for the females of the Skillet. Korey Cooper (rhythm guitar/backing vocals) and Jen Ledger (drums/vocals). Now to start out, Korey is on my list of top female guitarists. She is amazing to watch on stage with that kind of energy. She covers the whole stage while moving around and head banging. I just overall love the energy she puts and rocks out to all of the songs. England born Jen Ledger located to the United States at the age of 16 to major in drums and at the age 18 became the drummer of Skillet. So glad that Jen did because she is an amazing singer and drummer.
Skillet is out now on The Resurrection Tour with Saint Asonia and Theory of A Deadman most of there shows have been Sold Out and it was no surprise that Cleveland packed The Agora Theatre to one of those sold out shows. The crowd ranged in all kinds of ages.
Skillet is Christian Rock band that formed in 1996 out of Memphis Tennessee. They have eleven albums with multiple awards with even some Grammy nominations. To get Tour info go to Skillet.com/tour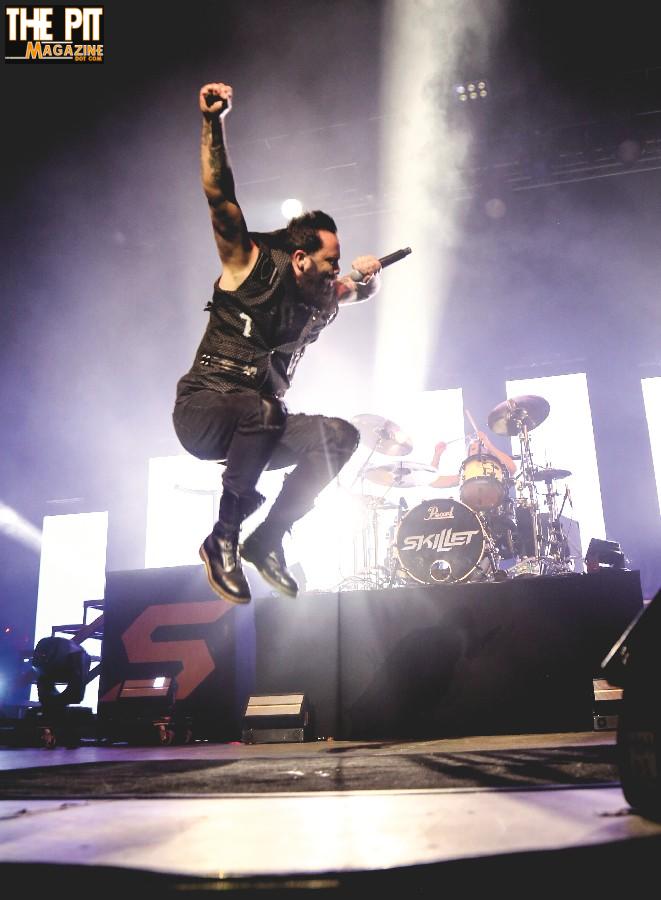 Photos by The Pit Magazine photographer David Desin Photography, in Eerie, Pennsylvania. ©2023.
Follow The Pit Magazine on Facebook, Twitter, Instagram and Spotify!
Subscribe to The Pit Newsletter today!           
Support this and other fine local & touring artists, dig and buy their music, and get some merch!