Seventh Day Slumber w/Magdalene Rose at The Bourbon Theatre in Lincoln, Nebraska on October 27th, 2023.
Photos and Review by The Pit Magazine Contributor, Bob DeHart Photography
The Seventh Day Slumber and Magdalene Rose sets for the Fozzy Fearfest show in Lincoln, was like a two for one special. Magdalene Rose using a few members of the Seventh Day Slumber crew to perform with her before they switched over and finished out with their own band. It was a family affair of sorts, as the drummer for Seventh Day Slumber, Blaise Rojas is also the fiancé of Magdalene Rose.
Magdalene Rose is a new solo artist, although she started touring with her sisters in a band called The GFM Band. To this point she only has two singles released officially. The most recent, Shark Spray. A great song, that shows her vocal range, from melodic to scream. And everything in between. On this night in Lincoln she was a wonder woman. Literally, as she was in costume throughout the set as were the rest of the bands. I can't wait to hear a full release from Magdalene Rose. She shows she has lots of potential and based on the live performance, she is a very dynamic live performer.
Seventh Day Slumber are rock veterans who have been around for quite a while. Releasing their first full album back in 1999. They have has a few lineup changes over the years but have a pretty solid group right now. Joseph Rojas, band founder and lead singer, Blaise Rojas drummer, Ken Reed bass, and Weston Evans guitar. Joseph Rojas shared his story about trying to commit suicide and in the process finding Jesus. Suicide being a very sensitive subject but I felt that they handled it very well. They had a video showing photos of people who had not survived suicide attempts that were followed by letters by people writing to them. It really was a sobering moment of the set. Bottom line and message sent, if you need help, please don't hesitate to get some help.
The two sets combined was a great fit, both bands with strong Christian ties, and both sharing some tough moments. I was glad I got to be there to see and hear what they do.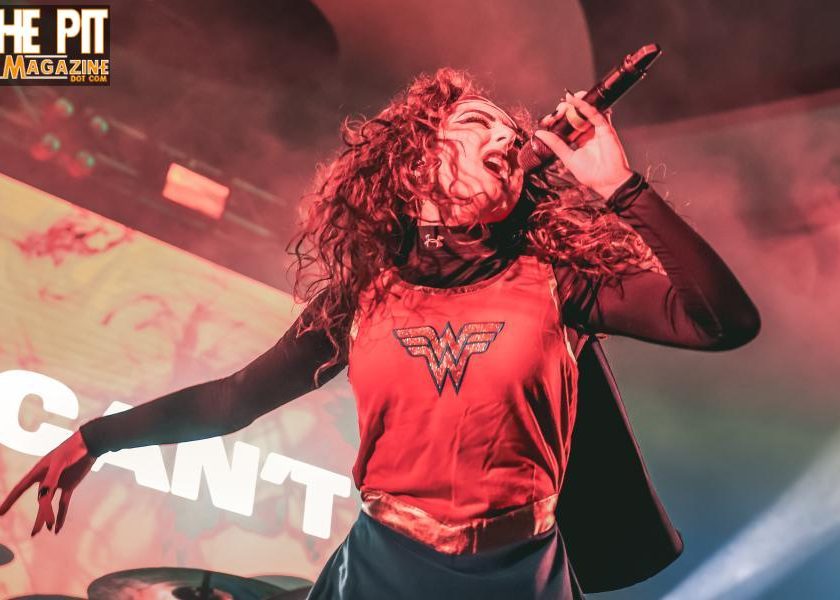 Photos by The Pit Magazine photographer, Bob DeHart Photography in York, Nebraska. ©2023.
Follow The Pit Magazine on Facebook, Twitter, Instagram, and Spotify!
Subscribe to The Pit Newsletter today!
Support this and other fine local & touring artists, dig and buy their music, and get some merch!