Motionless in White at Liberty First Credit Union Arena in Ralston, Nebraska on September 3rd, 2022.
Photos and Review by The Pit Magazine Contributor, Winsel Photography
Wow! Just wow!! I had seen Motionless in White about five years ago and I don't quite remember them being this popular. Apparently, I was incorrect (mark this on your calendar)! They were co-headlining the Trinity of Terror Tour with two other bands that I have or will have covered recently and soon (Black Veil Brides and Ice Nine Kills). But this is about Motionless in White (MiW). Perhaps, it was because I was not paying that much attention and did not do my research five years ago, maybe because I was more interested in the opener, The Pretty Reckless (I believe).
Motionless in White formed out of Scranton, Pennsylvania in 2004 which shows that they have stay power for almost 10 years! That is a lot of band years. This is a really good metal band (metalcore? Nu metal? Goth metal?) They are made up of Chris Motionless (Lead Vocals), Justin Morrow (bass and vocals), Ricky "Horror" Olson (guitar), Ryan Sitkowski (guitar), and Vinny Mauro (drums). It is said that the name of the band is from an Eighteen Visions song.
Usually, as concert photographers go, we get to shoot three songs and then we are done, we do not get to see or hear the rest of the set. I had the pleasure of being able to hang out in front and check out the rest of the Motionless in White set. I have to say that they were (are) really good. Not only did they perform some of their older songs they also added their Top 5 record, "Masterpiece" but they also did "Sign of Life" for the first time live. They also slipped in a pretty slick cover of "Somebody Told Me" by The Killers!!
Damn y'all, I can't say anything bad about Motionless in White. Go check them out live if you get a chance and definitely check out their music and play it until the tape stretches out!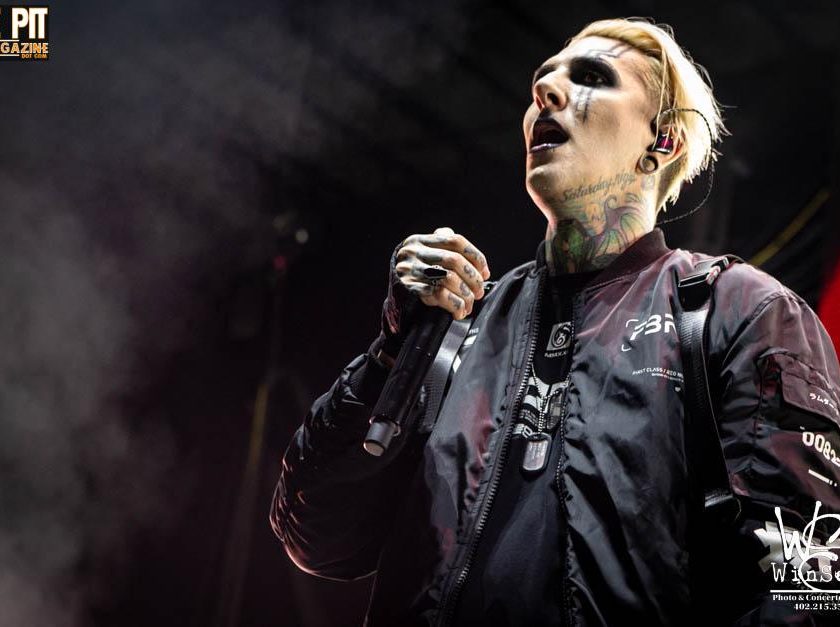 Photos by The Pit Magazine photographer, Winsel Photography in Omaha, Nebraska. ©2022.
Follow The Pit Magazine on Facebook, Twitter, Instagram and Spotify!
Subscribe to The Pit Newsletter today!
Support this and other fine local & touring artists, dig and buy their music, and get some merch!