Rise Against with The Used & Senses Fail at Roadrunner in Boston, Massachusetts on August 12, 2022.
Photos and Review by The Pit Magazine Contributor aGrace Photography
Just a few months back a brand new venue in Boston, MA had opened. The room holds 3,500 people, has top of the line lights and sound equipment, and an amazing massive two floor band room structure. This new venue is called Roadrunner. Not only was I extremely excited to get in there to see it for myself, but the fact that three amazing bands were coming in to blow the roof off, I knew I had to experience this room with this tour. The line was wrapped around the building a half hour before doors even opened! The energy in the air was full of excitement as the fans were ready to head into the massive building.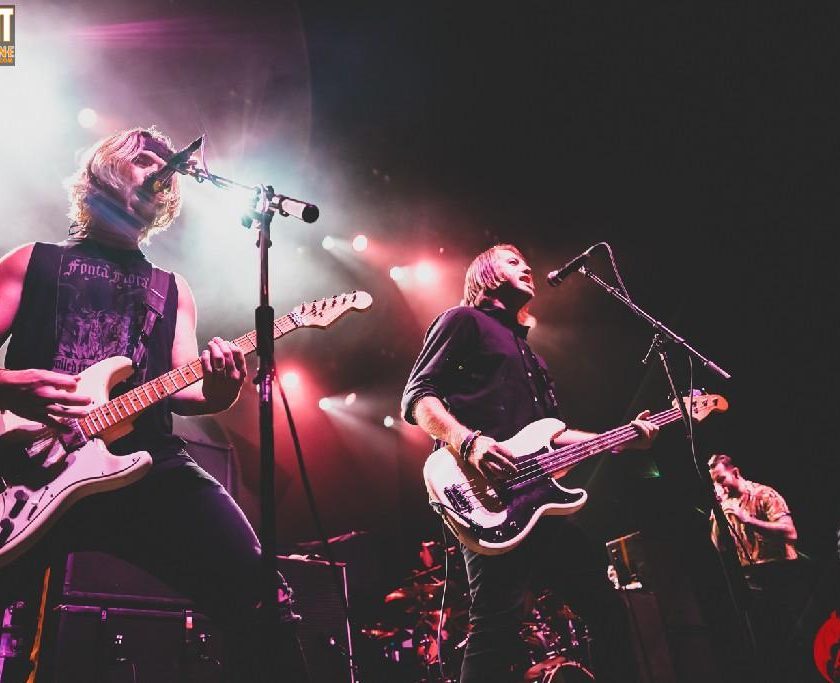 Kicking off this night was Senses Fail, an alternative, "emo" band out of Ridgewood, NJ. Middle school me was jazzed to see them on the bill, considering when they came out in 2001, that was absolutely my style of music. Such a perfect band to kick off the show, to an already half way packed house mind you! Opening with "Rum is for Drinking, Not Burning", Buddy Nielsen, welcomed the crowd in his fancy orange snake patterned shirt. Swinging his microphone around, running wild on the stage, and singing to fans that, like myself, have been a fan since day one. It was heart warming to see and a perfect way to start. Buddy Nielsen is the only original member left, however Senses Fail has never skipped a beat being joined by amazing musicians who rocked the stage right with Buddy. They ended the set with a heavy mash up of songs consisting of Disturbed's "Down with the Sickness", Limp Bizkit's "Break Stuff", and Rage Against The Machine's "Bulls on Parade". They did not disappoint to say the least.
SET LIST: Rum is for Drinking, Not Burning. Calling All Cars. End of the World/A Game of Chess. Lady in a Blue Dress. Buried a Lie. Death by Water. Can't be Saved. Bite to Break Skin.
The massive venue is packed from top to bottom and there is no space for people to squeeze into spots closer to the stage. We are ready for The Used to command us for their 13 song setlist while we stare at the signature mic stand. Bassist Jeph Howard walked on the stage in his bright red Kangol Bermuda hat that he has been reppin' on this tour, and the crowd roared. Drummer Dan Whitesides approached his tall drum riser. Guitarist Joey Bradford and singer Bert McCracken join and they break out into 'Maybe Memories'. It was a good thing the sound system was as loud as it was because the volume from the crowd singing along to every word was incredible. I have seen The Used a handful of times and not once was I ever left unimpressed. The Used was actually the last band I saw before the world got shut down wildly enough. They are a staple for so many people, including myself, and have made kids all around the world feel better in hard situations. Starting in 2001 from Orem, Utah,
The Used is definition of an "emo" band. Into the third or fourth song Bert asked his fans to not cheer, but to BOO for every time they wanted to cheer. It was honestly strange but really neat to see a band of this caliber to have been booed the whole show, for fun. The band went on to celebrate 21 amazing years with us, playing a handful of songs from multiple albums, having a blast doing it. Ending with "A Box Full of Sharp Objects" they incorporated Nirvana's "Smells Like Teen Spirit" which flowed so well. Talking as a fan, and just someone who enjoys live music, I highly suggest you don't miss their next tour. 
SET LIST: Making Memories. Take It Away. Sound Effects and Overdramatics. The Bird and the Worm. Listening. Blow Me. I Caught Fire. The Taste of Ink. All That I've Got. Buried Myself Alive. Blood on my Hands. Pretty Handsome Awkward. A Box Full of Sharp Objects. 
The sweaty, amped up crowd so enthusiastically took the house down enjoying the co-headliner, that it was almost hard to remember headliner Rise Against was coming to end this wonderful night. Still with a full venue and still jammed right up to the barrier, I noticed a sign that was so meaningful to so many, not just for Rise Against, but for so many musicians out there for so many people around the world. It read "Thank you! Your music saved my life in 2011. You all continue to give me strength to be me and never give up. Thank you!" The last time they toured was in 2013 but it was over the course of two years! It was really good to see them back on the stage giving their fans what they have been waiting for.
Tim Mcllrath is lead vocalist and rhythm guitarist and I have always been impressed by lead singers being guitar players as well and still hold an entire set down, that can not be easy. Tim did it flawless with no surprise. When Tim sings, you know the voice, you know what band is on stage. Bass player Joe Principe and drummer Brandon Barnes kept the beats tight, as lead guitarist and back up vocalist Zach Blair hit his leads flawlessly. The punk rock band from Chi-Town kept heads banging and fans screaming. Playing classics from "Hero of War", "The Violence" and acoustically "Swing Life Away", which you better believe that room was lit was with the new form of lighters, phone flash lights. Seeing them live, I definitely have a higher appreciation for this band that's been in the game a long time performing what they fully believe in. 
SET LIST: Prayer of the Refugee. Under the Knife. Satellite. The Violence. Ready to Fall. Collapse. Re-Education. Dancing for Rain. Audience of One. Hero of War. Swing Life Away. Nowhere Generation. Give it All. Encore: Survive. Savior.  
All in all, this tour, that seems to be nameless, was an absolute blast. Our little "emo" hearts were extremely satisfied.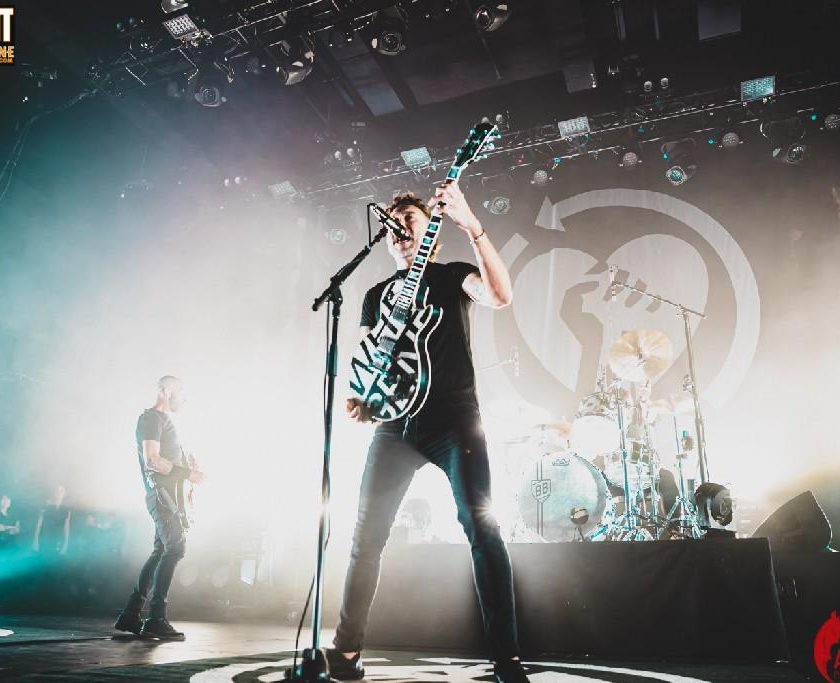 Photos by The Pit Magazine photographer aGrace Photography, in Boston, Massachusetts. ©2022.
Follow The Pit Magazine on Facebook, Twitter, Instagram and Spotify!
Subscribe to The Pit Newsletter today!
Support this and other fine local & touring artists, dig and buy their music, and get some merch!