The Half God/Half Devil Tour Stop with In This Moment, Motionless in White, Avatar, and Gemini Syndrome in Omaha, Nebraska on April 11th, 2017
Half God/Half Devil tour rolled into Omaha's Sokol Auditorium on Tuesday Apr 11th.  The tour also featured Motionless in White, Avatar, and Gemini Syndrome for a full evening of highly visual nu-metal.  
The Half God/Half Devil show started promptly started at 7pm with Gemini Syndrome.  This band has become a staple on modern rock radio and had the audience singing along throughout their entire 30 minute set.  Despite a limited stage production, they were the tightest sounding band of the evening.  The entire sold out crowd was jumping and fist pumping as they ended their show with their two biggest hits Remember We Die and Stardust.  Given their stellar performance and crowd response it was surprising they were the opening act.  However, keep you eye for this band, they certainly won't be openers for much longer.
Avatar, Sweden's ringmasters of metal, took over around 7:50 for the Half God/Half Devil Tour.  Their circus theme was spread across the stage, and even their sound and stage techs were dressed as circus ringleaders as they prepped the stage, checked the instruments, and wheeled a small circular platform with drape curtain to the front of the stage.  The band members took the stage and as they began the opening riffs of Hail The Apocalypse, the platform curtain dropped revealing singer Johannes Eckerstrom with his signature face paint (a slightly more clownish version of Eric Draven as The Crow).  Johannes stood absolutely motionless through the intro of the song.  I almost thought he was a wax figure until he flashed an evil grin before frenetically launching into the first verse.  Don't be fooled by their circus themed appearance, this guys are modern metal through and through with hard-core guitar riffs and a combination of guttural screams and throaty vocals.  They ended their 7-song set with 2012's Smells Like a Freakshow, which was quite fitting.
Motionless in White was next on the Half God/Half Devil show, and they were the most crowd interactive band of the evening.  Lead singer Chris "Motionless" Cerulli took several moments throughout their performance to engage the audience and keep everyone fired up.  The staged was decked out with candles and jack-o-lantern, and they had a female stage performer that appeared multiple times, in various outfits, accenting their music by waving flags, spraying the audience with water canons, or throwing Halloween treats into the crowd.   Motionless in White doesn't get nearly enough airplay in our local markets, but they have been a fixture on XM radio for a several years, and there was a considerable number of people wearing their shirts throughout the venue.  Their metalcore sound, featuring heavy verse/melodic chorus combinations, was the perfect performance to prepare everyone for In This Moment.   Their set was primarily recent material since 2012, with a couple new songs from their forthcoming Graveyard Shift lp.  Midway through their set they performed a flawless cover of System of a Down's Chop Suey that had the entire crowd singing along too, and they wrapped up with a killer performance of Reincarnate.
Once Motionless in White was off the stage, the large Sokol Auditorium curtain was closed to prepare the stage for In This Moment's headline set on Half God/Half Devil show.  If you haven't seen In This Moment before, the experience is more performance art than your traditional concert, and now as a headline act these theatrics are in full effect.   After a 4-5 minute pre-recorded intro the curtain finally opened and the band emerged from a dense fog.  The band members, plus 4 female dancers, flanked the stage wearing black cloaks with white face masks with large crosses on them.  Lead singer, and performance focal point, Maria Brink stepped out from a large tent in the center of the stage wearing a long white dress with a large pope hat and half her face covered.  She descended down stairs in front of the tent as the band launched into Blood from their 2012 record of the same name.   The audience provided a thunderous ovation as the song ended, then Maria disappeared back into her tent, and the band and dancers also stepped back into the fog out of view.  
Pre-recorded intro music started again to set the tone for the next song.  This on-stage/off-stage pattern was followed throughout their performance as Maria and the dancers changed outfits before every song, appearing in outfits similar to those worn in corresponding music videos or promo material.  Despite the repetitive nature of pauses between songs, each performance was visually stunning and heavily choreographed.  Although the band members didn't change in appearance much, musically they were top notch as you need to bring your A-game to keep everything in sync for such a choreographed show.  They held their own on the sides of stage with the main focus strictly on Maria and the dancers.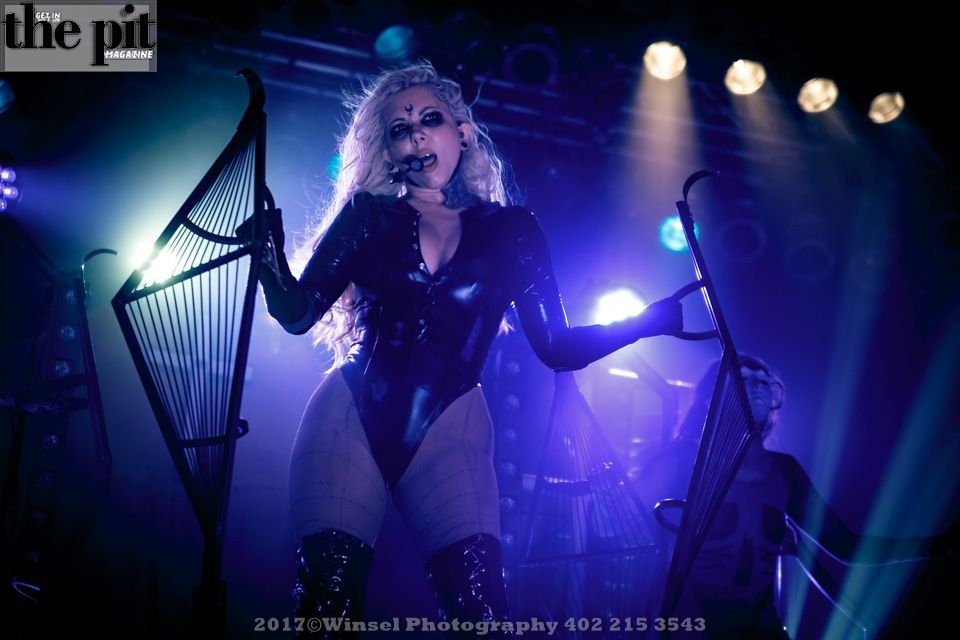 2017, Apr 11-In This Moment-Sokol Omaha-Winsel Concertography-7150There was a longer pause midway during the Half God/Half Devil show as a large chair was placed atop the platform in front of the tent.  Maria stepped out wearing a revealing white gown and sat atop the chair as she delivered a beautiful rendition of Fallen Heroes.  Afterwards she stepped down to introduce the members of the band.  Chris Howorth on lead guitar, Randy Weitzel on rhythm guitar, Travis Johnson on bass, and Kent Diimmel on drums.  After their introduction, Maria left the stage and the band jammed an instrumental medley of Metallica's For Whom The Bells Tolls and Creeping Death, ending with a wicked drum solo by Kent.  During this medley two dancers and stage crew set up a cage of front of Maria's tent.  The other two dancers reappeared wearing wolf masks, and Maria emerged from the tent once again and stepped into the cage for Big Bad Wolf.   They performed a couple of new songs from their latest CD, then Maria changed into her familiar black widow outfit with large black hat to end their set with Sick Like Me.
Encore songs included a cover of In the Air Tonight, followed by Whore with Maria sporting her large dunce cap with Whore written on it.   Their show lasted nearly 90 minutes, and they played 12 songs including the encores.
Overall the Half God/Half Devil show was an incredibly fun concert with four fantastic bands, each with their own appeal.   Definitely worth the ticket price, so don't hesitate to catch this tour if you are a fan of any of these bands.   
Photos courtesy of Winsel Photography in Omaha, Nebraska. ©2017. Review by Vince Andreasen.
Follow The Pit on Facebook, Twitter & Instagram!