Fozzy at The Bourbon Theatre in Lincoln, Nebraska on October 27th, 2023.
Photos and Review by The Pit Magazine Contributor, Bob DeHart Photography
I had heard of Fozzy and even had listened to a few songs. First time hearing them, I remember thinking, not too bad for a professional wrestler. For whatever reason it didn't stick with me at the time. Let's fast forward to October 27th , 2023. I get the opportunity to cover Fozzy for The Pit Magazine at The Bourbon Theater in Lincoln, Nebraska. It is part of their Fearfest Tour with Seventh Day Slumber, Magdalene Rose, and Nocturnal Affair as supporting acts.
As a side note, this was the first time Fozzy has played in Lincoln, ever. You would not have known that from the crowd that was there. A lot of longtime fans singing along word for word. Seems to me that Fozzy will have to make a return to Lincoln, their fan base seems to be pretty strong here.
As for the show itself, I loved it! One thing that was pretty noticeable being close to Halloween, that band was all in costume and makeup. It was fun to watch and take pictures of. These guys are all great musicians. But the thing that stood out most to me is how much fun they have playing. Lots of energy and smiles throughout the show. They genuinely looked happy to be on stage performing. Chris Jericho leading the way, skull makeup and all, seemed to love every second of being the ring master of the show.
Fozzy Releases New Video for Spotlight!!
Powerhouse rock band FOZZY are thrilled to release their new music video for their single "Spotlight". With the superstar showmanship of front-man CHRIS JERICHO, tag-teamed with guitar genius RICH WARD, FOZZY are a band that have always pushed the boundaries both sonically and artistically over their twenty plus year career. From performing three shows across America in one day, to filming a music video on one of the fastest hair raising roller coasters in the world, the band lives up to their reputation again with their "Spotlight" video.
Lots of great songs, a few covers thrown in and a highlight for me was the playing of the new single, Spotlight (See above! The ground breaking video features hundreds of live drones that light up the night sky to co-star in this first ever Drone Show music video. It's a full out assault on your eyes, ears, brain, and remaining senses, as JERICHO braves the elements..) A great new tune, check it out! You won't be disappointed.
This was everything a rock and roll should be. High energy rock and roll performed with no pretentious attitude. Just there for a good time. That to me is what it's all about. Thank you Chris Jericho for bringing Fozzy to Nebraska. I hope we get to see you again soon!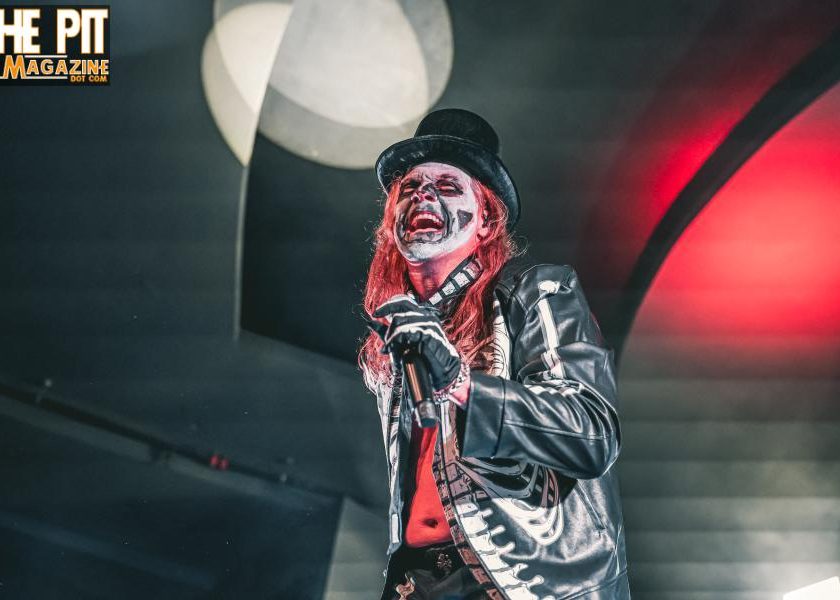 Photos by The Pit Magazine photographer, Bob DeHart Photography in York, Nebraska. ©2023.
Follow The Pit Magazine on Facebook, Twitter, Instagram, and Spotify!
Subscribe to The Pit Newsletter today!
Support this and other fine local & touring artists, dig and buy their music, and get some merch!