Fozzy Announces Fall Tour with Support from Seventh Day Slumber, The Nocturnal Affair, and Magdalene Rose!
Hard rock mainstays FOZZY announces their plans to dominate America's rock n roll scene with their upcoming Fall 2023 tour dates. The beloved band will be accompanied by an all-star tour lineup featuring Seventh Day Slumber, The Nocturnal Affair (featured in the top 20 rock SMR charts for three consecutive weeks), and Magdalene Rose (currently #1 on the Christian rock charts). Fozzy is returning with a new song, a new setlist, and the familiar high-octane energy that keeps fans coming back for more. Tickets and VIP packages are available now.
"We are beyond excited to put the Fozzy Spotlight back in the USA this fall! After headlining our biggest UK show ever in August, we are ready to keep the party machine rolling throughout America in Oct & Nov! With a brand new song, a brand new setlist, and the same Fozzy energy & attitude that you know & love, we fully expect this to be the perfect way to ring out your rock n roll year…with the most exciting show and tour of 2023! So get ready to share the spotlight with Fozzy!" -Chris Jericho, FOZZY
FOZZY Fall 2023 Tour Dates w/ Seventh Day Slumber, The Nocturnal Affair, and Magdalene Rose:
October 19 – Chattanooga, TN – Barrelhouse Ballroom
October 20 – Lexington, KY – Manchester Music Hall
October 21 – Angola, IN – The Eclectic Room
October 22 – Mchenry, IL – The Vixen
October 23 – Joliet, IL – The Forge
October 26 – Des Moines, IA – Wooly's
October 27 – Lincoln, NE – Bourbon Theater
October 28 – Sioux Falls, SD – Icon Event Hall
October 29 – Minneapolis, MN – Lyric Theater
October 30 – Fargo, ND – Sanctuary Events Center
November 2 – Lansing, MI – Gewal Hall
November 3 – Madison, WI – The Annex
November 4 – Wyandotte, MI – District 142
November 5 – St Louis, MO – Hawthorn Theater
November 6 – Memphis, TN – Lafayette's
More on Fozzy:
After touring the world and building a loyal fanbase for the better part of twenty years, Fozzy is the epitome of what a killer rock n roll band should be: catchy, groovy, hooky, sweaty, and most importantly, a GREAT EFFEN TIME!
With six consecutive TOP 20 singles, Fozzy is steadily becoming one of the most successful bands on Modern Rock Radio, with their breakthrough massive smash song "Judas" achieving Gold Record status of 500,000 units sold in February of 2022! So get ready to experience the majesty and power of Fozzy LIVE once again and for Judas' sake…please wear a helmet!
Fozzy is:
Chris Jericho – vocals
Rich Ward – guitars, vocals
Grant Brooks – drums
Billy Grey – guitars
PJ Farley – bass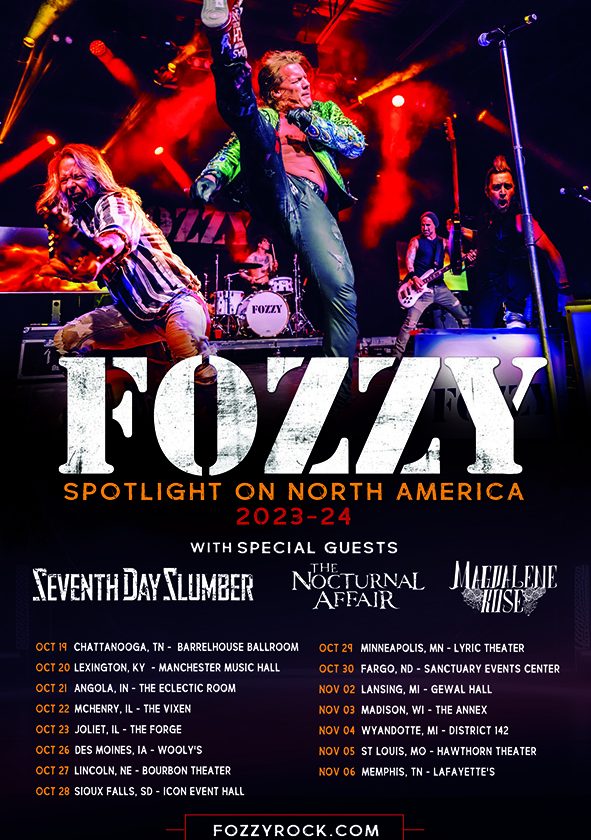 Follow The Pit Magazine on Facebook, Twitter, Instagram, and Spotify!
Subscribe to The Pit Newsletter today!
Support this and other fine local & touring artists, dig and buy their music, and get some merch!