Atreyu & Motionless in White to Co-Headline with special guests: Wilson.
ATREYU and MOTIONLESS IN WHITE have announced details for their 2019 co-headlining tour, which will see them traversing across North America this spring. The upcoming "Spring Invasion" Tour will also feature support from special guests Wilson. The 21-city trek kicks off on April 13th in Orlando, FL and concludes on May 10th in Louisville, KY. A complete list of dates can be found below.
ABOUT ATREYU:
Since their formation in 1998, Atreyu have elevated heavy music to melodic heights contrasted by stark hardcore grit, doling out beauty and brutality in equal measure. This delicate balance transformed the Southern California quintet into a gold-selling powerhouse and enduring presence. 2002's Suicide Notes and Butterfly Kisses established them as an influential force, while 2004 follow-up The Curse sold 450,000-plus copies. A Deathgrip on Yesterday and 2007's Lead Sails Paper Anchor both bowed in the Top 10 of the Billboard Top 200 with the latter garnering a gold certification from the RIAA—a highly rare accomplishment for a 21st century rock band. The musicians returned with Long Live in 2015. It crashed the Top 30 of the Billboard Top 200. The boys sold out countless headline shows and shared the stage with Korn, Linkin Park, Chris Cornell, and Avenged Sevenfold. The band's most recent offering, 2018's In Our Wake, reaffirmed their staying power while receiving praise from Metal Injection, New Noise, and Louder who claimed, "They can still boss a field-filling chorus with the best of them." Additionally, "The Time Is Now" clocked nearly 10 million cumulative streams as "In Our Wake" and "Anger Left Behind" both surpassed 2 million. Their wake continues to grow. WEBSITE | FACEBOOK | INSTAGRAM | TWITTER | YOUTUBE
ABOUT MOTIONLESS IN WHITE:
Since 2006, Motionless In White has won over audiences around the globe with their aggressive music and arresting imagery, rapidly rising to the upper echelon of modern rock. Albums such as 2010's Creaturesand and 2012's Infamous would galvanize a rabid fan base around the band — currently comprised of lead singer Chris Motionless, guitarists Ryan Sitkowski and Ricky Horror, and drummer Vinny Mauro. Motionless In White's 2014 LP, Reincarnate, reached new heights, bowing at #9 on the Billboard Top 200 and claiming #1 on Billboard's "Hard Rock Albums" chart. Graveyard Shift, the band's latest album, arrived in 2017 to critical acclaim; once again topping Billboard's "Hard Rock Albums" chart led by the Top 20 Active Rock hit "LOUD (F*ck It)," as well as the thunderous singles "Eternally Yours" and "Necessary Evil." "Motionless In White make sure to leave no gravestone unturned as they explore the vast underworld of rock," declared Alternative Press, while Rock Sound avowed, "Every cut brings something new to the table… tugging at the heartstrings one moment and cutting straight to the bone the next." WEBSITE | FACEBOOK | INSTAGRAM | TWITTER | YOUTUBE
ABOUT WILSON:
Wilson formed in 2010 when the members came together in Detroit, MI. After two previous full-length releases Fullblast Fuckery in 2013 and Right To Rise in 2015, the band is back in 2018 with an all new album, record label, outlook on their career and musical direction; combining their unique brand of in-your-face rock n' roll with an influence of hip-hop and their love of all things '90s. Tasty Nasty, the band's most recent LP, was produced by the band and Scott Stevens (American Authors, Shinedown, Sick Puppies). From the infectious chant of album opener "Dumptruck" to the reflective introspection of closer "Everyone Gets A Round On Me," it is apparent that Wilson has not lost their ability to tell a great story. Songs like "My Hustle," "Summertime Treat (Tasty Nasty)," and "Fuck Up My High" all showcase the diverse musical styles Wilson incorporates in to their latest album. The debut single "Like A Baller" is an instant classic among the band's devoted faithful. Wilson is Chad Nicefield (vocals), Jason Spencer (lead guitars), Kyle Landry (rhythm guitars), James Lascu (bass) and Matt Puhy (drums).WEBSITE | FACEBOOK | INSTAGRAM | TWITTER | YOUTUBE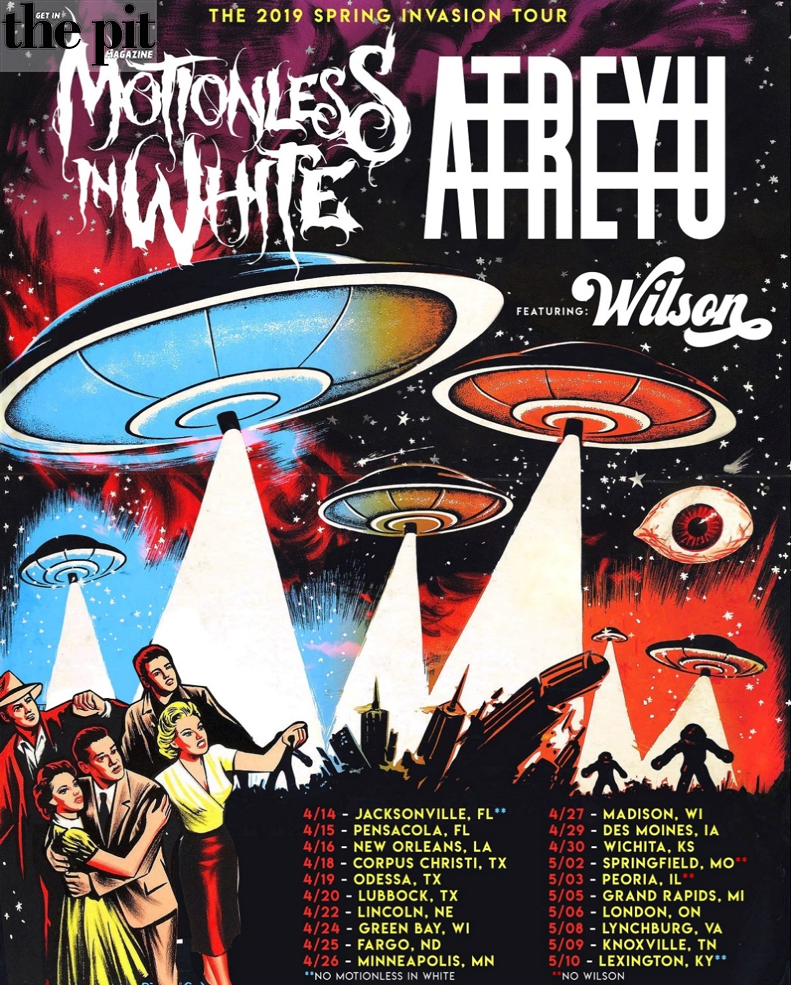 Midwest Tour Stops:
Monday, April 22nd – Lincoln, NE @ Bourbon Theatre
Thursday April 25th – Fargo, ND @ The Sanctuary
Monday, April 29th – Des Moines, IA @ Wooly's
Tuesday, April 30th – Wichita, KS @ The Cotillion
Thursday, May 2nd – Springfield, MO @ The Complex*
*No Wilson
Follow
The Pit on Facebook, Twitter & Instagram!
Support this and other fine local & touring artists, dig and buy their
music, and get some merch!