The Struts at Stir Concert Cove in Council Bluffs, Iowa on September 22nd, 2022.
Photos & Review by The Pit Magazine Contributor, Bob DeHart Photography
The Struts are a band that had been under the radar for me for quite a while. I had heard of them and even a heard a song or two, but just not enough to peak my interest. Two things changed that for me, the first, the recorded a version of Kiss's "Do You Love Me" on their latest release (Strange Days 2020). I thought any band that covered a Kiss classic couldn't be too bad. So I bought the Strange Days album and really liked it. Some great collaborations on this album from Robbie Williams, Phil Collen, Joe Elliot, and Tom Morello. It's a pretty solid album start to finish. The second thing that turned me into a fan was seeing them live as they served as the opening act for Shinedown in 2021 while in Lincoln, NE. They were pretty awesome that night and I thought if I get the chance to see them again I was definitely taking advantage of it.
On this night in Council Bluffs, they did not disappoint me or any of the fans in attendance. High energy is putting it mildly when you talk about The Struts performing live. It was a chilly night and it even rained for a bit, but The Struts did not let that effect the show at all. It's cool to have a British band touring the United States right now because of previous covid restrictions limited who could travel abroad and for how long. It's nice to see things pretty normal again. The Struts threw in the set list their new single "Fallin' With Me" among the other hits that were played. Singer Luke Spiller said there will be a new album released soon. I can't wait to hear more of the new tunes! I definitely feel that The Struts are on an upward trajectory, you should check them out if you have not yet.
The Struts are:
Luke Spiller- Lead Vocals
Adam Slack- Guitar
Jed Elliott- Bass
Gethin Davies- Drums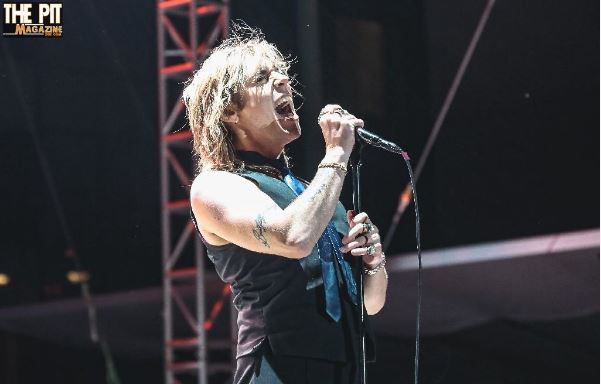 Photos by The Pit Magazine photographer, Bob DeHart Photography in York, Nebraska. ©2022.
Follow The Pit Magazine on Facebook, Twitter, Instagram and Spotify!
Subscribe to The Pit Newsletter today!
Support this and other fine local & touring artists, dig and buy their music, and get some merch!