Bring Me The Horizon at Wintrust Arena in Chicago, Illinois on October 14th, 2022.
Photos and Review by The Pit Magazine Contributor Sevauna Photography
Bring Me The Horizon has been my favorite band since I was 14 years old, so this was an exciting shoot for me. They are a British rock band from Sheffield that was formed in 2004. Their debut album Count Your Blessings was released in 2006. They have been continually releasing music since then, their latest album being Post Human: Survival Horror, released in 2020. This is the start of their four-album series, Post Human. This first album was a hit and my personal favorite, so I am intrigued to see what they release next. I traveled from St. Louis to Chicago solely for this show, and it was worth it!
The openers set the scene, giving the audience a great show and pumping them up for the main act. Bring Me The Horizon opened with an older song of theirs, 'Can You Feel My Heart". This song has recently gained a great deal of popularity again through social media. The audience was ecstatic from the second they walked on stage. They do not come to the United States much and had one of the craziest mosh pits I have ever seen.
Bring Me The Horizon's setlist was a bit short being 12 songs, but they made sure to get in all the biggest hits. I appreciated the few songs they performed from their first albums. This really showed the long-term fans in the audience, one being me! Everyone put on an incredible show. Lead singer Oliver Sykes gave his all, especially in their older songs, those being predominately screaming. Guitarist Lee Malia and Bassist Matt Kean had a great performance, especially with a few solos. Jordan Fish is a band member that does a little bit of everything, but mostly keyboard. He definitely added the most musically to this show.
There was an abundance of visuals throughout the Bring Me The Horizon show. A large screen behind them was on the entire show, sometimes listing the lyrics for the audience to sing. They also had an act of the show 'malfunctioning' mid-set that lead to a different energy for the rest of the show. I love to see creativity like this to keep the audience on their toes. This was a show that I will never forget, Bring Me The Horizon never fails to amaze me!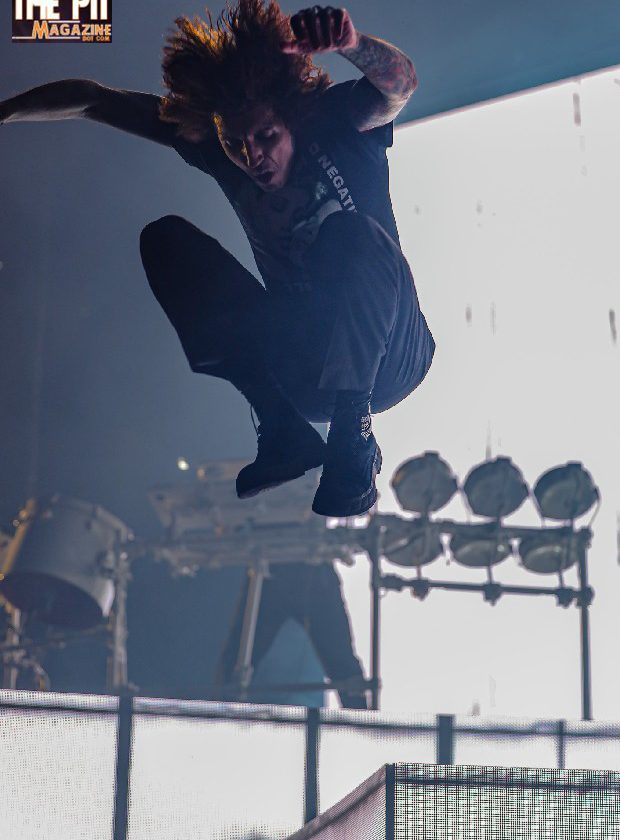 Photos by The Pit Magazine photographer Sevauna Photography in St. Louis, MO. ©2022.
Follow The Pit Magazine on Facebook, Twitter, Instagram and Spotify!
Subscribe to The Pit Newsletter today!
Support this and other fine local & touring artists, dig and buy their music, and get some merch!