Static X at The Bourbon Theatre in Lincoln, Nebraska on April 9th, 2023.
Photos and Review by The Pit Magazine Contributor, Bob DeHart Photography
Static-X played to a sold out show at The Bourbon Theater in Lincoln, Nebraska this past Easter Sunday (4.9.23). This current tour, Rise of the Machines, has been going strong for over two months with many consecutive dates with very little time off. That is an impressive feat for any tour, throw in that there are 5 bands on the bill and many of the dates have been sold out…that is truly amazing. It was not a peaceful at the Bourbon, the crowd was loud and crazy. During a couple of the sets I was dodging crowd surfers as they came over the rail to the pit. And it was definitely loud. This is one of those shows I will be regretting not taking my ear plugs to. I had good intentions to wear them, I just forget them behind.
As for the Static-X set, it was spectacular. It was a strong new songs and the classics. Lead singer, Xero looked and sounded amazing. His new mask looked intimidating and awesome at the same time. Red glowing eyes to make sure you always knew where he was at all times. I'm not sure if I could wear a mask like that for a full show but he pulls it off. I have always thought the mask is a great tribute to the late Wayne Static, and I believe that Wayne would be proud of what the current band is doing in his honor. The stage being lit from top to bottom with lights and Xero's presence gets the crowd in a frenzy.
Static-X have partnered with master costume/prop maker Eddie Yang and his Deity Creative to evolve the look for guitarist/vocalist Xer0. Eddie Yang is a movie industry veteran known for his work with "Avatar," "Iron Man," "Man Of Steel," "The Amazing Spider-Man," "Robocop" and "Terminator: Salvation" to name just a few. "Eddie is a genius" says Xer0. "We wanted to evolve the Xer0 character into a more cybernetic/robotic figure for the Rise Of The Machine Tour and Eddie absolutely fucking killed it!!!!!!!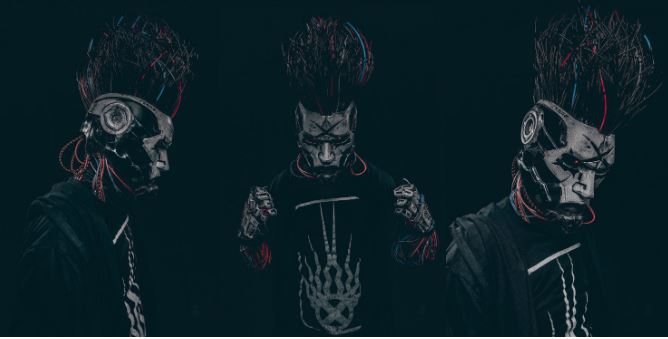 The rest of the band Tony Campos (bass), Koichi Fukada (guitar), and Ken Jay (drums) bring the energy to make the show complete. This was my first Static-X experience and I can say that it was great show. My ears are still ringing. I hope it's not my last time to catch them. Although, the band may take a well needed break after the undertaking this tour is. The tour will end late on April 15th in Los Angeles before a break to go overseas.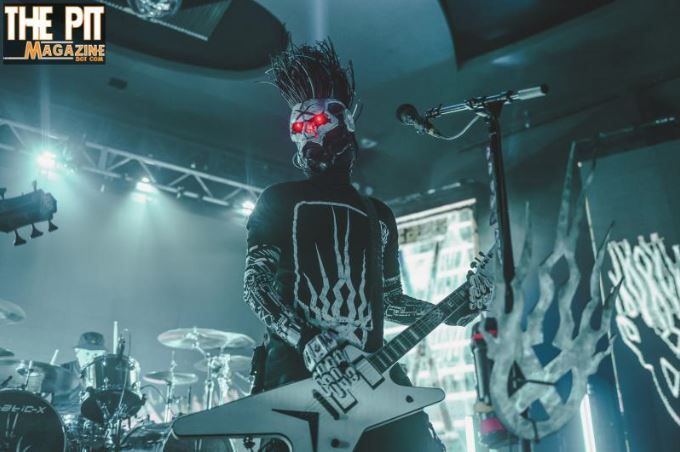 Photos by The Pit Magazine photographer, Bob DeHart Photography in York, Nebraska. ©2023.
Follow The Pit Magazine on Facebook, Twitter, Instagram and Spotify!
Subscribe to The Pit Newsletter today!
Support this and other fine local & touring artists, dig and buy their music, and get some merch!