Blue October at The Pageant in St. Louis, Missouri on November 19th, 2022
Photos and Review by The Pit Magazine Contributor Sevauna Photography
One of my favorite types of concerts is huge bands in small venues, and this was just that! Blue October sold out The Pageant a month prior to the show, a venue with a capacity of just 1,000 people. It was surreal seeing a venue I know exceptionally well packed to the brim with people! It was fantastic to see such a diverse crowd. Up to elders, all the way down to children with headphones experiencing their first concert.
Blue October is a well-known Rock band that was established back in 1995 in Houston, Texas. They have many diverse band members that give them an original sound. They have hit the top charts of alternative rock numerous times throughout their career. With eight albums released, their most popular remains the album Foiled, released in 2006. From the moment the band stepped out, their stage
presence was astonishing. Each band member gave their own energy to the stage, blending together to make a breathtaking set. With their diverse sound, they played a bit of everything. Some somber songs, some country sound, and of course some good old-fashioned rock and roll! The crowd went absurd with Blue October opening song, 'The Kitchen Drawer', even though it is one of their slower-paced songs. This is a piece from their most recent album, Spinning The Truth Around. This is the first of a three-album project.
A few songs into the set, the audience had the peak of their excitement from one of their biggest hits, 'Into The Ocean'. I caught myself singing along with them, this being one of my favorite songs. Slightly later into their 22-song setlist, Blue October dedicated the song 'Home' to a recently late radio show host, Jeff Burton. He was the heart of St.Louis and it took a toll on all of us. Lead singer Justin Furstenfeld was a close friend of Jeff's and spoke a beautiful piece that resonated with all of us St.Louis residents. They picked the pace up afterward and continued to play an exceptional set. Violinist Ryan Delahoussaye showed off his skill with a talented solo during their song 'Italian Radio'. Drummer and brother of lead singer Jeremy Furstenfeld had his fair share of solos as well. They closed off the show with an encore of an unreleased single, 'Moving On' that exponentially excited the crowd. We are all intrigued by what music is coming out next from them. Everyone shuffled out with a smile on their face. Blue October went past expectations with this show and I hope to see them again!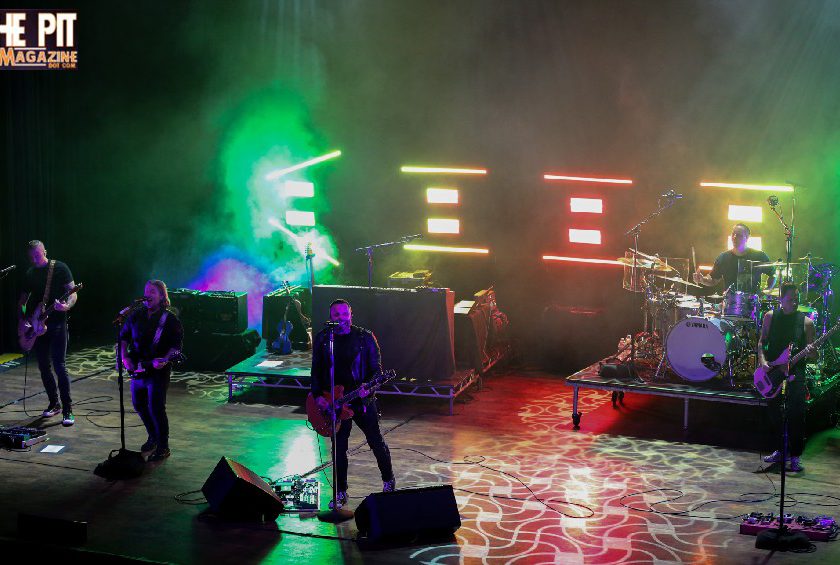 Photos by The Pit Magazine photographer Sevauna Photography in St. Louis, MO. ©2022.
Follow The Pit Magazine on Facebook, Twitter, Instagram and Spotify!
Subscribe to The Pit Newsletter today!
Support this and other fine local & touring artists, dig and buy their music, and get some merch!