$toneburner Project from Steven Archer With Outburn To Premiere "Sellout"
Stoneburner Is The Latest Project From Musician & Artist Steven Archer (Ego Likeness)"Sellout" Is The Lead Track From Upcoming Album Apex Predator Produced By The Legendary John Fryer &To Be Released By COP International Records.
After signing with indie label COP International Records in February, Stoneburner to release the first taste of new music with catchy track "Sellout" that examines the pitfalls of the music industry, the battle to get ahead in it, and the downfall of having no tours the past year to stay engaged.
Stoneburner is the post-industrial music and art project from prolific multimedia creative Steven Archer. Baltimore-based Archer is also known for co-founding the darkwave gothic rock duo Ego Likeness (Metropolis Records) with Donna Lynch that formed in 1999 and has successfully released several albums and completed several tours in Europe.
Stoneburner is steeped in sci-fi themes and is inspired by many of the otherworldly fiction Archer likes to read and the accompanying videos for each song that Archer self-produces are mired in these themes as well. The project's name is taken from a weapon from the science fiction novel Dune; Archer's once guiding light for the project was seeking to answer the question, "What would dance music on Dune planet Arrakis sound like?"
"Sellout" is the first taste of the music that will be forthcoming on Stoneburner's first album for COP International, called Apex Predator. The track is being released as part of an EP that includes remixes from Klack as well as labelmates Stabbing Westward and Sick Jokes.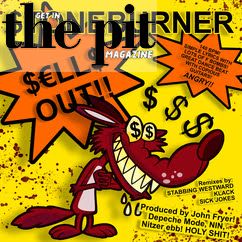 Follow The Pit on Facebook, Twitter & Instagram!
Subscribe to The Pit Newsletter today!           
Support this and other fine local & touring artists, dig and buy their music, and get some merch!