Dirty Honey in Lincoln, Nebraska on June 22, 2021 at The Bourbon Theater.
What a great time to be Dirty Honey. The band is nailing some impressive accomplishments. In October, 2019, they became the first unsigned band to go all the way to #1 on Billboard's Mainstream Rock Songs chart with their very first single, "When I'm Gone." Today, the band sees its debut full-length album score the #2 spot on the Current Hard Rock Albums chart, #4 on the Current Independent Albums chart, and #5 on the Current Rock Albums chart. And all without the support of a major label.
"It exceeded all of our expectations," said Dirty Honey's vocalist/lyricist Mark LaBelle about the release of the band's debut album, the Dirty Honey album. "We're all really excited to release new music, especially after such a long wait, and it's great to feel the momentum again, with the 'California Dreamin" single, the response to all of the new music, our social media…it's just a very exciting time."
It was indeed great to finally see Dirty Honey live in The Pit of The Bourbon Theatre in Lincoln, Nebraska. I was pretty impressed (and a little scared) by how many people were there. I picked the right night to see and photograph my first show in well over a year. The Bourbon stage is huge and they had a lot of room to move and filled the stage throughout their set. It was impressive as all four played equal parts in their set. Mark LaBelle's vocals are off the chart. Justin Smolian on bass played his ass off and was not afraid of being in front with Mark. John Notto on guitar had some solid riffs and you could see that he was feeling it. Drummer Corry Coverstone kept it together in a tight package.
This was a headlining show to support their self-titled debut record. It was a balls to the wall, almost hour long set and it was well worth the trip to Lincoln to see it.
Gypsy
Break You
Take My Hand
The Wire
Fire Away
Heartbreaker
Down the Road
The Morning
Tied Up
Girls Got Rhythm(AC/DC cover)
Another Last Time
California Dreamin'
When I'm Gone
Rolling 7s
But wait, there's more!
Whodathunkit?? This short headlining tour was a warm-up for a supporting tour!
Dirty Honey warmed up their first night of this tour to a sold-out show in Nashville of the "Shake Your Money Maker Tour" with The Black Crowes.
"Exploding right off the bat with 'Gypsy,' Dirty Honey showed why they topped the charts without a record deal. Dirty Honey was a brilliant warm up for The Black Crowes." — OC MUSIC NEWS
Dirty Honey, one of rock music's most dynamic new bands, opened the "Shake Your Money Maker Tour"Tuesday night with a set that was loaded with riffs, hooks, melodic swagger, soaring vocals, and the band's timeless balls-to-the-walls rock sound. The 55-minute set was packed with many of Dirty Honey's most popular songs, including "Gypsy," "The Wire," "Another Last Time," "Take My Hand," and their current hit "California Dreamin'" – all cuts from the band's recent debut album. Dirty Honey also reached back to their 2019 debut EP for the sexy, bluesy, riff-rich rock of "Rollin' 7s," and their debut track, the #1 Billboard smash, "When I'm Gone." As one concertgoer remarked, the set was "all killer, no filler."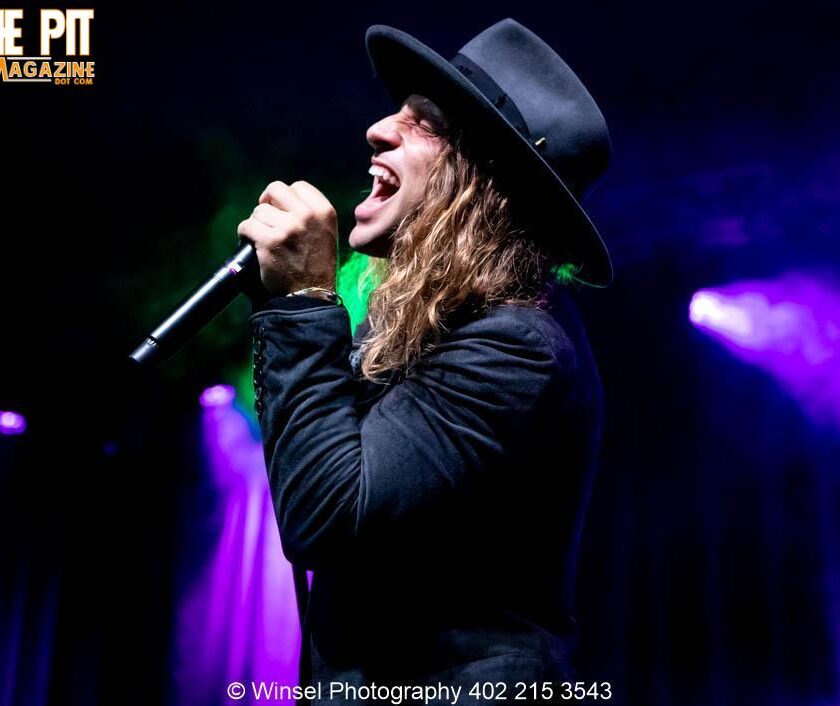 Photos by The Pit Magazine photographer, Winsel Photography in Omaha, Nebraska. ©2020.
Follow The Pit on Facebook, Twitter, Instagram and Spotify!
Subscribe to The Pit Newsletter today!
Support this and other fine local & touring artists, dig and buy their music, and get some merch!
Follow Winsel Photography on Twitter, and Instagram!