Ice Nine Kills at Liberty First CU Arena in Ralston, Nebraska on September 3rd, 2022.
Photos and Review by The Pit Magazine Contributor, Winsel Photography
ICE NINE KILLS! WTF did I just see!? Kind of like Alice Cooper having a love child with Slipknot. Although the masks of the main players were temporary, the band moved around constantly like the bigger band from Des Moines, Iowa and without all of the extraneous implements. BUT! The bass lines were so heavy they had to be weighed. Ice Nine Kills (sometimes stylized in all capital letters or abbreviated to INK, and formerly known as Ice Nine) is an American heavy metal band from Boston, Massachusetts. Their band name is derived from the fictional substance ice-nine from the novel Cat's Cradle by Kurt Vonnegut.
Hey! Welcome to Horrorwood for the Wurst Vacation where it's Hip to be Scared! Where your host Spencer Charnas (vocals) guides you through a terror filled world where he gets to chop some of his co-workers into tiny little pieces. No not his cohorts Ricky Armellino (rhythm guitar), Dan Sugarman (lead guitar), Joe Occhiuti (bass), and Patrick Galante (drums). However, the random crew member was somehow getting their arms or heads in the way of a meat cleaver or an axe.
Check out their newest work, The Shower Scene! (May Be A Little Disturbing, but I like it!!)!!
To date, Ice Nine Kills has released three EPs along with six full-length studio albums: Last Chance to Make Amends, Safe Is Just a Shadow, The Predator Becomes the Prey, their most successful albums to date; Every Trick in the Book, which peaked at number 122 on the US Billboard 200; The Silver Scream, which peaked at number 29; and their latest, The Silver Scream 2: Welcome to Horrorwood which peaked at number 18 on the US Billboard 200.
Could this be The American Nightmare or maybe I am Stabbing in the Dark on a Rainy Day. Either way, this was far from the Wurst Vacation and I will be returning to Horrorwood when Ice Nine Kills comes slashing back into my neighborhood.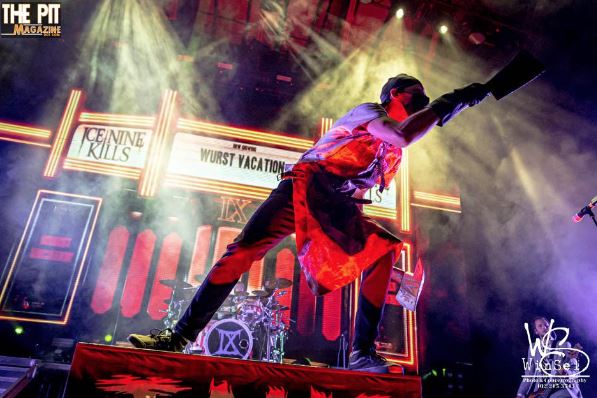 Photos by The Pit Magazine photographer, Winsel Photography in Omaha, Nebraska. ©2022.
Follow The Pit Magazine on Facebook, Twitter, Instagram and Spotify!
Subscribe to The Pit Newsletter today!
Support this and other fine local & touring artists, dig and buy their music, and get some merch!