Foreigner played at Stir Cove in Council Bluffs, Iowa on July 14th, 2016.
SOLD OUT! A capacity crowd showed up at Stir Cove in Council Bluffs, Iowa to witness this stop of the 40th Anniversary of Foreigner. But, there's a catch, there were no original members of Foreigner performing this night. Mick Jones was oddly absent. Which for me took some of the shine off the show. Plus, there were rumors that Lou Graham was hinting that he might like to join part of this tour. I am certain my heart would have stopped to see Mick and Lou on the stage together. I went into it thinking that Foreigner is not really Foreigner without at least one founding member.
However, this version was not letting anyone down as they kicked off the show with Double Vision, Head Games, and Cold as Ice. This Foreigner, let by vocalist Kelly Hansen, was different in a good way. They nailed each song like it was theirs. Kelly is a cool mix of Lou Graham's voice and Steven Tyler's fashion flare and mannerisms. Bruce Watson handled the lead guitar spot well and the solos were on point. The sound was Foreigner and that overcame the missing members. At one point, Kelly Hansen climbed up the scaffolding during a guitar solo to see more of the enormous crowd all around him. He is quite a show man and I was impressed with his presence on stage.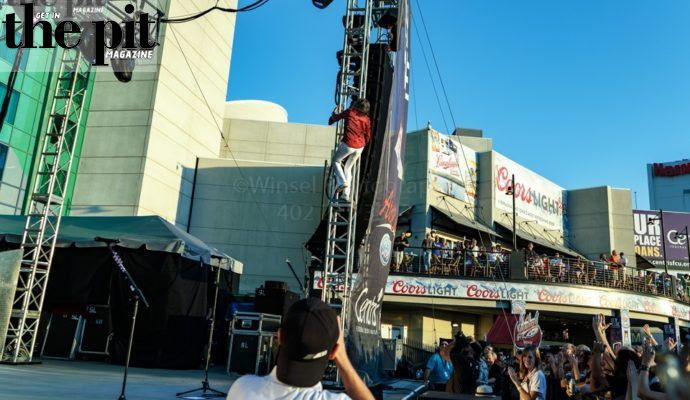 The highlight of the night belonged to the Thomas Jefferson High School Choir who joined Foreigner on-stage for a rousing rendition of "I Want to Know What Love Is". One of the biggest highlights of the show and brought me to tears. Best part of this night was the band made a donation to the school's choir program.
Even without Mick or Lou, this Foreigner did kick some serious butt to this sold out show in Council Bluffs.
Happy 40th Anniversary!
View the gallery

HERE

!
Photos courtesy of Winsel Photography in Omaha, Nebraska. ©2016.
Images are available for purchase. Contact Us for details!