Greta Van Fleet in Omaha, Nebraska on December 12th, 2017.
Greta Van Fleet performed to a sold out Sokol Auditorium in Omaha, Nebraska on December 12th, 2017. Probably one of the most anticipated shows of the year and rightfully so. I was first introduced to the band by my friend Al who showed me their "Highway Tune" video earlier this year. I was floored, these kids were good. I told everyone I know about them and the reaction was very similar. When they announced they were coming to Omaha I was pretty stoked. They were originally scheduled to play a different venue but the show sold out in minutes. The decision was made to move to Sokol Auditorium and it sold out very quickly as well.
Fast forward to December 12th. As per my usual, I had watched several videos of Greta Van Fleet live to see what to watch for and expect. Initially my reaction was, "meh." I did not feel overly enthused because they seemed rather static in their stage presence and but performances were adequate. For a few minutes I was apprehensive about covering this show, so I went with moderate expectations. They kicked of the night with "Talk on The Streets", "Black Smoke Rising", and "Edge of Darkness". They were off to a good start. I knew the song that everyone had come to listen to would damn near be the last song of the night and it was worth the wait.
EDIT: After seeing the review, I received an email from the publicist (a legend in the industry) and she told me that this is the first year that Greta Van Fleet had gone on any kind of tour and that they had only a few dozen live shows under their belts. Knowing this makes this band that much more impressive.
There were six of us in the photo pit that night. So it was a bit of a pinch to get into the shots we wanted. At the end of Greta Van Fleet's third song there was a collective, "What the hell did we just see?" We were all smiling like children on Christmas and we just got the best present ever. After photographing nearly 100 shows this year, this one was a top 10. Will I see them again? Hell yes I will! Should you have seen them in this smaller venue? Hell yes you should have. I fully expect to see them in bigger venues in the future.
Are they really the next Led Zeppelin? One can never really replace a classic. They are the first Greta Van Fleet and they have a similar sound to the great. No matter, they are very good young band with an immeasurable amount of talent.
My ears were happy!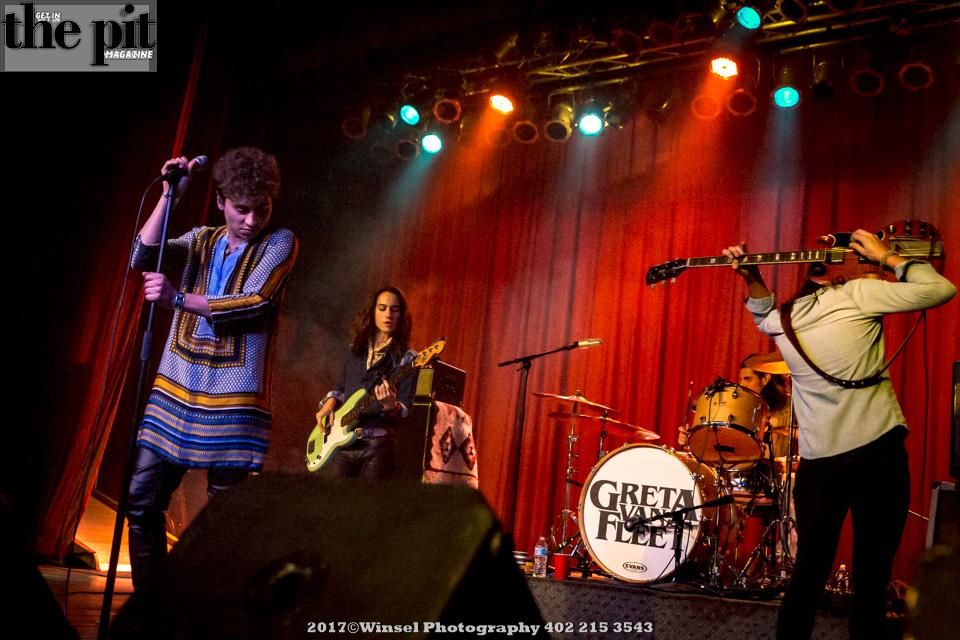 Photos courtesy of Winsel Photography in Omaha, Nebraska. ©2017.
Follow The Pit on Facebook, Twitter & Instagram!